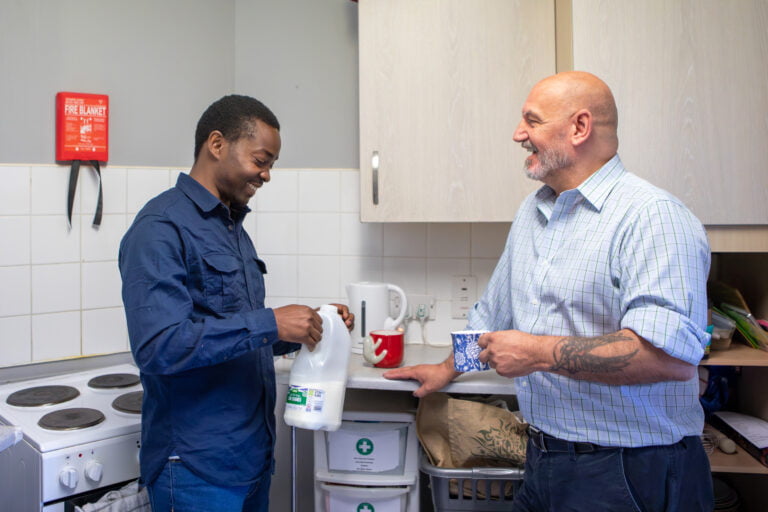 Who can become a Social Care Professional?
Whether you've worked in the social care sector before or want to make a move into social care, we have a role for you. We value kindness, passion and creativity above previous experience and will provide you with the training and support you need to reach your full potential. 
We welcome applications from people with lived experience of homelessness, mental health issues or offending. This experience can be vital in making connections with the people that we support and work with every day. 
At Blue Triangle, we believe it does not matter where you have been, but where you are going.
Our opportunities and where they are
We operate across Central Scotland providing services that specialise in supporting young people and adults by:
Going beyond, by providing tailored, supported accommodation
Delivering person-centred, trauma informed support services that take a whole system approach
Empowering and supporting the development of positive connections and lasting relationships
Helping to build safe, supportive connected communities
Enabling those we support to live in supported housing – and ultimately beyond, when the time is right for them
Our services are community based where the people we support are able to move forward with a support infrastructure that empowers them and enables them to feel safe, and to achieve everything they want to.
We believe in our staff being the champions of change, combining their passion and expertise so they can grow and develop in our organisation.
Our staff enjoy a positive and rewarding working environment, where they trust and respect each other, and the value of the work they do.
The locations of our services can be found here.
Learn more: Nick Beaton, Housing Assistant, and Amanda Melvin, Regional Service Delivery Manager, discuss their careers so far, and why they recommend Blue Triangle as a great place to work
Current Opportunities at Blue Triangle
At Blue Triangle, we strive to make our recruitment process user-friendly and accessible.
Please refer to the important documents below which will provide guidance on how to apply for our roles and how we gather data.
Blue Triangle recognises and actively promotes the benefits of a diverse workforce and is committed to treating all employees with dignity and respect regardless of race, gender, disability, age, sexual orientation, marriage or civil partnership, pregnancy or maternity, religion or belief.   
We welcome applications from all sections of the community.
Find out more about our benefits, such as our generous annual leave and flexible working.
We offer extensive training to provide you with the tools for your role and to improve personal development.
You've applied for the job, but not sure what to do next? Read our helpful guidance on how to prepare.